O-BUSTER  FT-type
The most seen in the market
Fast working: O-BUSTER FT renders oxygen less than 0.1% in 24 hours.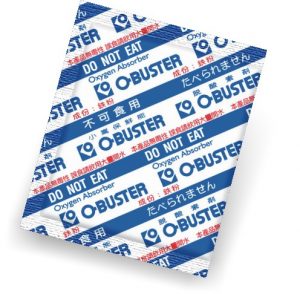 Extended expiration: Extends 3 times of original shelf life.
Safe: The ingredients well sealed and packed by special material and technology will never contact food.
Printing: The printing for different languages are available as Chinese, Japanese, English, Spanish, French, Thai, and Indonesian.
O-BUSTER oxygen absorbers prevent changes in freshness, color and flavor of foods by keeping the environment free of oxygen to maintain the quality and nutrition of foods.
Features and application
O-BUSTER FT is printed in stripes of light blue and white color.
Toxic-free: The packing film and ingredients are free of microorganisms, heavy metals and toxic substances which are safe for food contact.
Application:
The FT-type O-BUSTER is adequate to foods containing water < 40% including pastry, supplements, seasoning, agricultural products, medical articles, feeds, noodles and snacks.
The formula of low Aw prevents foods from becoming moldy and dampened with green effects.
How to use:
Please seal oxygen absorbers in the pack in one hour.